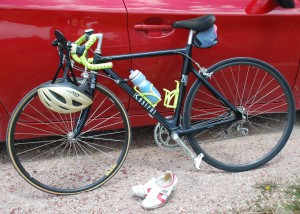 May 31, 2015
Today I went for a gratitude bike ride. Why a gratitude ride? Lots of reasons.
Twenty-five years ago today I was in a horrible bicycling accident. It taught me a lot about gratitude over the years to follow.
I'm grateful to be alive! Thanks to the expert medical attention, and the presence, kind words and deeds of family and friends near and far, I live — truly live, grateful for each day.
The support was inspiring. I wanted to do everything possible to heal — for myself and my one-year-old twins of course, but later so I could give back and be present for others as well. I remember the tears of happiness that fell when I learned I could ride again. I knew I would heal. Now every time I get on my bike I feel grateful and full of life.
Getting back on the bike helped heal me, not only because it was getting back to something so connected to my trauma, but also, as recent trauma research articulates, it helped heal my body where it registered and stored the trauma.
My experience of trauma recovery has been influential in many ways, most recently in the development of the multi-disciplinary trauma treatment program at Life Solutions.
Knowing how the combination of medical, psychological and somatic approaches worked together so effectively for me, led me to want to offer that possibility to others at Life Solutions.
I just thought you might be interested to know. Wishing you a day with much gratitude, Susan